to my blog~ hahaha. thank you for keeping up with me and my endless blabbering. hahaha. I'm not gonna promise you a short post. it won't be short. I'm warning you, it's a very long post. LOL. so it all started a year and a day ago; yeah, it's 14 September 2012. while I started my tumblr on 13 September 2010; this is my very first post on tumblr. I don't suggest you to go through my tumblr since it's literally a lot (12, 814 pages). but it's fine if you still want to. hehehe. so, uh, just a quick look of the statistics of this blog in a year:
total pageviews in one year
top audiences; THANKS, GUYS!
THANK YOU SO MUCH FOR ALL THE READERS. thank you for everyone who has acted as my inspiration on writing the posts. yea, experience is the best teacher. you guys are the best supporters alive. hope you don't get bored tho; especially when I blabbered too much. just like what I'm doing right now. hahaha. and sorry for my poor English. it's not my first language. well, yea, I'm not even good on my first language anyway. hahaha. I use too many slangs that I couldn't speak in Bahasa correctly.
without any further due, here's the recap of last week:
Monday, 09 September 2013
another tiring Monday. my Monday's classes are not so well scheduled. no matter how long I slept at night, I always get sleepy during the classes. I was still hoping to meet one of my seniors who brings me ups and downs every time. I intentionally waited until he finished his class. I didn't meet him. it's not the right time, perhaps. I wasn't sad. it's a part of my effort. he's done his. maybe it's my turn.
I made chocolates for my English classmates. so I had this presentation about chocolate. I thought it's cool to make some to support the presentation. and it's good to do things I've always done before. making chocolate is more than fun. I enjoy it as much as I watch football matches. hahaha. here's the chocolates that I made: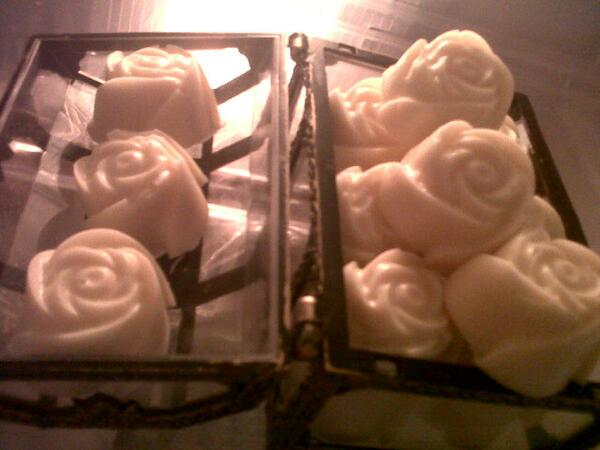 white chocolate rose
I carved them myself. LOL. no. I used chocolate mold. I'm not that expert that could carve it. hahaha. one day, I'll be able to do that. amen~
Tuesday, 10 September 2013
good things happen to those who wait? yep. unfortunately, I didn't really work it so I only got a good thing. if I worked it, maybe I'd get a great one. so, yea, I did another intention to meet him. GOD IS GOOD. I met him; yea, the same senior whom I always want to meet. only a slight glance tho. but it's fine. I wonder if he knew how huge his presence means to me..... nah. hahahaha! it's good to see you twice in a day. LOL. and this is me, if you read this, no matter how many boys/men out there, you mean everything to me; for now. this thing won't work if there's only one person who fights. it require two persons; and it's us. if you don't, I won't.
I had my very first meeting of IBEF 2013. UGH! it demanded more energy than I expected. I'm glad that they're willing to work. but, yeah, freshmen..... I expect more than this, guys. don't fail on me.
Wednesday, 11 September 2013
I had a presentation about chocolate. MY SPECIALITY! chocolate is my bestest friend. I made a new recipe for my chocolate. I'm sorry if you didn't try it. I'll bring some more if I had time to make it. hahahah!
so, yeah, Wednesday (this semester) is tight. classes start from 7 and finish at 18. got a quiz; thank God, I could do it well. the last class starts at 15. I was sleepy as hell. one of my best friends who sat next to me, searching for tattoo ideas. she got bored too, so she "decorated" my left fist. here's the pic: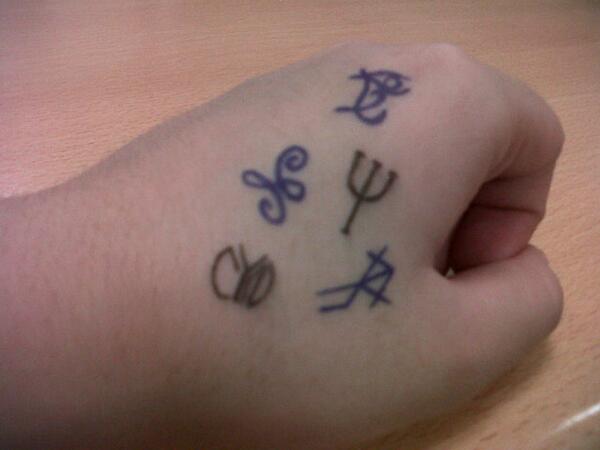 top: fearless
middle (left-right): truth, psychology
bottom (left-right): my new symbol "CYN", elimination of obstacles
I got down a little. every thing seemed wrong to me. I did this, when it stroke back: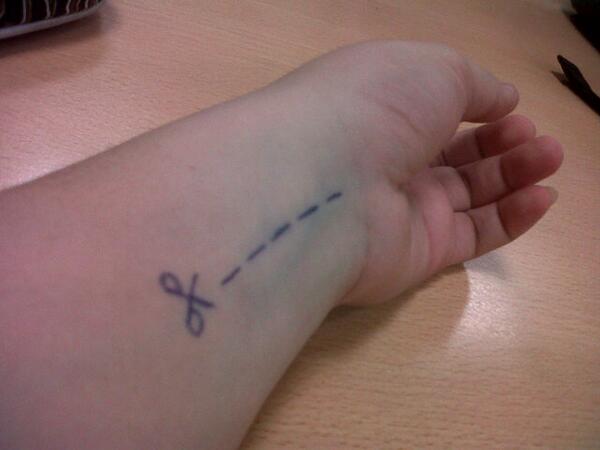 I love my scars because they remind me of how much you hurt me
hope I didn't do anything more than this. hahaha. nah, I'm cool. I know I won't do those silly things. I refuse to skip wonderful things that may happen unto me. hihihi. just like the small chitchat I had with my senior (again, yes, the senior whom I always wanna meet). thank you for the little sweet words you said to me. it's cliché, but still, thank you.
and terribly to my two seniors whom I got mad at. you guys met me at the wrong time. hahahaha. sorry for the stupid childish thing I did to you. promise, it won't happen again. please do accept my apology.
Thursday, 12 September 2013
I COULDN'T DO MY QUIZ. ASCBASLKJCNSLKAVNAVN!!!!!!!!!!!!! whatever. I read the materials until the very last minute, but I still couldn't manage it. maybe next time ;_______; whenever I failed my quiz, I feel guilty. guilty for not doing my best while I've promised him (that senior, again) to do so. I won't disappoint my loved ones for the second time.
I AM BUSY. this semester is literally absorbing my energy; a lot. Student Organization thingy, IBEF thingy, academic thingy, internship thingy, etc etc etc. ARGH! but highest praise to God for letting me experiencing these bustles. I literally learn gazillion stuffs that probably aren't taught formally in class. something that not everyone could experience. thanks for everything You've done to me.
Friday, 13 September 2013
HAPPY INTERNATIONAL CHOCOLATE DAY! ALLES GUTE ZUM 24. GEBURTSTAG, THOMAS MÜLLER!
HAPPY THREE YEARS, CALZSF'S TUMBLR!
nanananana~
I arrived at campus before 8 again. this time, I had internship briefing at 14, then class at 15-17. hahahaha. I arrived early because I need to "teach" my junior something. woohoo~ hahaha. arriving at 8 because I wanted to do my homework but I forgot to bring it. typical me.
Friday and thirteen are literally my good friends. the senior whom I always wanna meet greeted me this morning! I WAS SO HAPPY AND NERVOUS AT THE SAME TIME. FINALLY! God is great. He has His own timing. omg..... I was hoping that I could meet him before he started his class. but I didn't meet him. I expected he'd be at SL when he had 1-hour break. but then he showed up before the break. something that I've really never expected before. the second thing that beyond my expectation was: he came to me! he greeted me! gosh..... because awesome stuffs happen when you least expect it ♥
maybe I was overreacting it, but after he greeted me, I felt like..... *deep sigh* all the things I've done to meet him was paid. again and again, thank you for bringing me up and down. thanks, God.
Saturday, 14 September 2013
HAPPY ONE YEAR, CALZSF'S BLOG! YAY! finally I have an active blog. hahaha. it's hard to have one since I always take things too easy. hehehehe. again, thank you to you all for reading my blog.
I had the very first IBA Night ever! thanks to the committee who had prepared all the things. thanks to everyone who came to IBA Night. thanks for the good food and beverage (and cupcakes!!), good atmosphere, and good vibe. BITCH DON'T KILL MY VIBE! hahahah. that's Anthony's and Pat Cruz's project actually. hahaha. anyway, I had a great night. once again, thanks! thanks to everyone who had really supported the event. for those who are curious how the event looked like, just check my facebook account. probably some of my friends will upload the photos ;)
but ugh. like, really. alcohol and smoke are literally not my thing. I got dizzy once I reached home. hope I won't deal with those things ever again. thanks to my lovely friends who keep saying, "glad you've never tried those" yea, guys, I don't drink alcohol and I don't smoke. I'm trying to stop consuming soda, but it's really hard..... :<
anyway, since it's 15 September, so,
HAPPY 36TH BIRTHDAY, EDWARD THOMAS HARDY! most gorgeous BAMF ever! hahahaha! I'm waiting for the next movies which you're starring at :D
remember I talked about Ryan Higa's handshake song here
? I and my friend are working it out. hopefully next week, we'll record it and show it to you guys. hahahah! oh, we made some stupid-but-awesome clips on vine. maybe I'll show you later :D
on 28-29 September, I'll be in a place where I and my friends, the juniors, and the seniors are having Student Organization outing. it should be fun! I'm really looking forward to doing it. thank you for the committee who has arranged everything. I do really appreciate your hardwork, guys! :D
"Would you like to know your future?
If your answer is yes, think again. Not knowing is the greatest life motivator.
So enjoy, endure, survive each moment as it comes to you in its proper sequence -- a surprise." -
Vera Nazarian (The Perpetual Calendar of Inspiration, 2010)