I wake up everyday to make it happens.
I work my ass off to make my dreams come true.
living in one of my dreams.
a dream which finally has come true.
HI GUYS!! so, on the last post, I "promised" you a next entry. here's the entry I promised. something that..... well, maybe some (or most) of you don't care. but for those who have dreams and wanna make them come true, this entry might be a right one for you :)
I'm stating it again, yes, I'm a huge fan of football. football has got in me since I was young; around 5 years old. I accidentally watched a football match. it's the final of UEFA Champions League 1999; MUFC-FC Bayern München.
I knew nothing but I found this sport was amazing. the match was won by MUFC. but that's the very first time I noticed a football club named FC Bayern M
ünchen. I fell in love. then I knew about the national team. I fell in love with Germany. and never ask me why. why Bayern, why Germany; why fell for a losing team. never ask.
days turned into weeks, months, and years. there goes my days supporting the club and the national team. it's football; we don't always win. we experienced victories, draws, and losses. it's normal. and thanks to football, i was taught how to have a bigger heart, braver, more confident, how to act and believe, how important respect, professionalism, sportsmanship are. things that actually matter in life.
being a FC Bayern and Germany NT supporter is not easy. there are actually people who hate me for this, people who keep telling me that I'm a diehard fan, people who tell me that I dreamed too big; somehow I "tell" them I'll be in Germany, in München, seeing my idols. hahaha. football is part of my life;
FC Bayern and Germany NT
. it's always been my dream to be in Germany, in
München.
to make my dream comes true, I did things. I worked my ass off. and so did my parents. right. thank You, God, for giving me superb parents who always support me at any time, any rate. they know exactly how I wanna be in Germany. my parents let me enrol at a (Swiss)German university. this university offers the students to have internship in Germany. yes, this is exactly what I want; to be in Germany. my parents gave me the opportunity. to get the internship, I need to work and study hard. they didn't just "send" me to Germany.
to get an internship place in Germany, maybe you could check this entry. I should admit, at first, I was like "why Berlin? why couldn't I get in
München?". but as the time goes by, I realised, this is God's will. God always His own plan. and He always makes everything beautiful in His time. what if I got a place in
München? I won't be in Berlin to watch football matches at Fanmeile. I won't be in Berlin to celebrate the Germany's triumph. yes, Germany is the World Cup 2014 winner; Weltmeister, world champion!!
Fanmeile Berlin, 16 June 2014, Germany-Portugal (FT: 4-0, Group)
Dresden, 21 June 2014, Germany-Ghana (FT: 2-2, Group)
Fanmeile Berlin, 4 July 2014, France-Germany (FT: 0-1, Quarterfinal)
Fanmeile/Berlin Hauptbahnhof, 13 July 2014, Germany-Argentina (FT: 1-0, Final)
Fanmeile Berlin, 15 July 2014, The Celebration
WM, DAS SIND WIR ALLE!
also, I don't know how to extend my deepest gratitude to my colleagues. they "helped" me to go to the celebration at Fanmeile Berlin. everything seems beautiful and perfect :'
a little story at Fanmeile Berlin during the celebration..... I cried. HAHAHA. YEEESSSSSS!! I cried. there you go. hahaha. I shed a tear when Löw, Bierhoff, Flick, and Köpke appeared on the stage. tears rolled down my face when all the players came out. I was emotional~ hehehe :'D
I believe, if I wanna get something, I should go through difficulties and pains. this is, more or less, an Indonesian proverb: "berakit-rakit kehulu, berenang-renang ketepian, bersakit-sakit dahulu, bersenang-senang kemudian". so, it's fine now. I'm happy with my internship here in Berlin. I'll be
München on 8-12 August. again, God allows me to develop. being in
München, it's another thing of "working hard before enjoying the stuffs you love".
so, yeah. I actually have never imagined I would be in Germany right now, FC Bayern won treble on 2012/2013 season, Germany won the World Cup 2014. but I believe. I keep praying to God that He would allow me to witness FC Bayern wins the treble and Germany wins the World Cup. accidentally, I sang, "I'm dreaming of a treble season". my subconscious is great, uh? hahaha. for Germany, I was surrounded by people who disbelieve that Germany would win the World Cup 2014. I let them talk, while I keep praying and believing that Germany would top it in 2014. and here we are.
FC Bayern München, Season 2012/2013, Treble Winner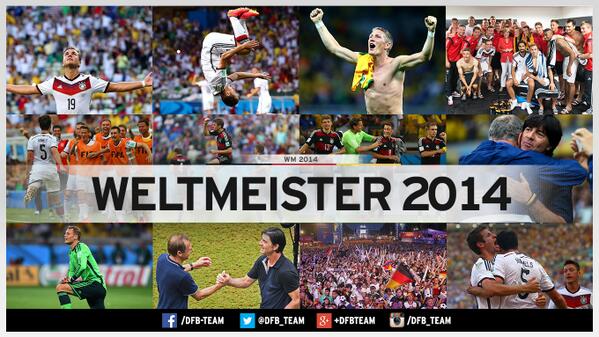 Germany National Team, World Cup 2014, Winner
btw, CONGRATULATIONS, GERMANY!! FOUR STARS. FINALLY! been waiting since 24 years ago! vielen, vielen Dank und herzlichen Glückwunsch zum 4. Stern!! thank you very much for letting me witness a great fight in World Cup. thank you for letting me live in one of my dreams. thank you for helping me to make my dream comes true!
☆☆☆☆
so..... cliché. cliché saying. but this cliché thingy has a very powerful effect on me; "law of attraction and claims that positive thinking can create life-changing results such as increased wealth, health, and happiness". I'm experiencing this right now. this is how living in one of my dreams feels like. I don't know how to thank God, my parents, and my supportive family and friends. I don't know how to express my deepest and sincere gratitude to those who help me to make my dreams come true. also to those people who told me that I dream too big. yes, I might be a stubborn one, but that's me. I'm trying to have faith in me; to believe that I'll achieve what I really want. fortunately I always have God behind my scenes. I'm glad He's around me everywhere and every time.
I choose to live my dream. how about you?
"All our dreams can come true, if we have the courage to pursue them."
-Walt Disney Company
"No matter where you're from, your dreams are valid." -Lupita Nyong'o
-calzsf
P.S.: I couldn't wait for what more to come. and here's to more dreams I might have the chance to live in it.